De afgestudeerden van 2019
Zuyd is trots op alle afgestudeerden!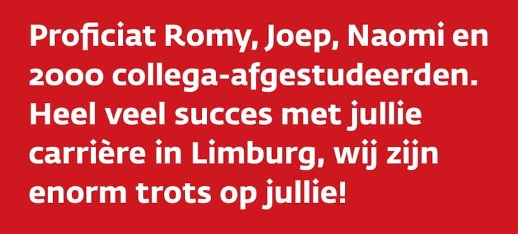 Finance & Control
Tom Joshua Jordy Richard Bart Lisa Giel Mike Dany Rick Laura Ruben Jasper Iris René Kelly Ricardo François Mattijn Bejan Tom Nico Samir Jorn Koen Kenny Daphne Milou Lindsay Iris Kiki Britt Patrick Joanna Tim Britt Shirley Mitch Mike Zoë Laura Robin Servé Jeffrey Jeroen Wesley Sharon Tim Sylvana Amber Tjarco Natascha Benny Anniek Jeroen Lars
Docent Beeldende Kunst en Vormgeving
Janine Iris Mandy Dianne Chiema Loran Isabelle Kim Anne Evy Kevin Lineke Chantalle Manon Dagmar Don
International Business
Agita Allan Amanda Amber Andrea Angelo Anne Anouschka Antonella Aziza Bob Bryan Camiel Celine Chloe Chloé Corentin Dario Dean Dimphy Dominique Ekaterina Elvin Faniel Fanny Farah Faye Fleur Francois Glenn Guusje Guy Hannah Heisel Ilyas Iris Jack Jieyun Jikke Jill Joep Joey Joris Joske Jules Justus Koen Kris Kristy Lars Louis Luuk Maarten Manon Maria Mark Martijn Marvin Maurits Meryem Mohammed Myrthe Nando Nick Nina Noortje Paco Paul Philippe Pim Raf Samantha Savas Sebastiaan Sharona Sidney Simon Sofietje Souhaila Sven Svetlana Szymon Thijs Thimo Thomas Thomas Thomas Vanesa Wessel Willeke Xinan
Vertaalacademie
Adriana Anne Astrid Charlotte Collin Dieke Ewa Femke Freek Gyarina Jacqueline Jair Jeroen Jessy Jillian Justin Kelly Kimberly Levi Lisa Lotte Luc Mayke Melissa Melissa Minou Nikki Nisa Sabine Sanne Stefan Sylvana Teuntje Tim Yara
Applied Science
Maryam Lex Victor Jérôme Ilona Joris Esmee Luc Daniël Daniëlle Roos Wasiliki Luke Joshi Dominik Mark Youri Thys Phyllis Bart Nadine Marence Monique Dennis Manou Jella Laura Sarah Maikel Alex Susan Robbert Glenn Michael Gabriëlle Bas Yves Daphne Menno Vincent Joeri Jasper Lyanne Arno Mikkey Lotte Martina Yousra Bram Krit Janou Tom Maria
Docent Beeldende Kunst en Vormgeving
Janine Iris Mandy Dianne Chiema Loran Isabelle Kim Anne Evy Kevin Lineke Chantalle Manon Dagmar Don
Oriëntaalse Talen en Communicatie
Ahlam Alexandra Amber Anne Aria Ashley Carmen Carmen Cassandra Cheyenne Dirk Dylan Dyonne Espen Floor Ghislane Glenda Glenn Ilias Jamie Jannick Jenette Jihad Jinske Joury Kelly Kim Lenn Li Ya Loïs Lola Lotte Maarten Manita Marscha Meeri Melina Melissa Melvin Meriem Mouna Myrthe Julia Naomi Ricardo Roxane Sathya Siar Siham Thomas Tristan Wesley Yara Yvette
Built Environment
Max Amin Pepijn Barents Eva Brian Krishan Daphne Loes Job Rik Stijn Mark Joey Yvo Edwin Vincent Ryan Maik Jeroen Joost Michelle Thijs Jorn Ruben Justin Dion Stan Gijs Marco Pim Tim Jochem Brian Luciano Joost Nordin Robin Kevin Bas Brian Anne-Renske Mitch Merel Arian Jeroen Sharmee Yordi Lisa Paul Patrick Fleur Eileen Djordee Jessy Lars Caspar Dennis Tom Erwin Koen Ruben Jeroen
European Studies
Bo Chayenne Chris Claire Daan Daphne Dina Emilie Felipe Flip Flora Irene Jacques Janice Janne Joeri Julie Kim Kim Koen Laila Liv Lucy Mar Marleen Michelle Michelle Nabila Nieke Niels Niels Pieter Jan René Rose Sanne Sarah Shanella Simon Sophie Soraya Tanne Thomas Vera
Vormgeving | Design
Desiree Julina Michelle Empar Jolieke Dana Ashley Max Natalia Tom Daan Jules Tom
Engineering
Luc Bas Thijs Evan Jordy Dennis Daan Jasmin Olaf Brian Julian Steven Frank Remon Steven Sven Robin Sam Sander Bjorn Mex Julian Bart Luca Joe Jurrien Björn Kevin Nickel Marco Martin Raph Thomas Giles Jules Rik Luuk Rik Bart Ruben Henry Chris Jens Luc Yannick Luc Frank Max Ian Nick Willem Jard Bram Rowan Raoul Raoul Bram Trussardi Nick Jordi Damond Marvin Alejandro Eelco Martijn Rik Sebastiaan Anass Steven Mike Roy Franka Koen Philip Guus Tim Kenneth Rick Max Theo Kerhin Ivo Jens Ginn Ralph Mike Maurice Bram Stephan Bjorn Mark Jenôt Julian Jelle Cars Romano Jelte Lucas Sil Brian Luuk Bas Wicher Jelle Ivar Milos Ceriel George Niels Steffan Mischa Jegor
HBO-Rechten
Anisa Mariam Aimée Fatima Forog Kimberley Andranik Gianluca Alicja Terence Maurice Marieke Lois Valérie Emiel Brend Faissal Maud Bas Shirley Xavier Maurice Rani Lianne Marianne George Evelien Benoit Guus Kathy Nicky Tessa Alina Kübra Amy Michelle Imke Marlou Kristina Sousan Tom Leonie Giovanni Alessio Luc Rebecca Esther Alysza Rick Loussine Dennis Stan Celine Patricia Jessica Tom Morris Raoul Laura Emma Lianne Femke Kayleigh Sanne Charlotte Cyriel Tamila Gerlin Warsha Sarah Fenna Shannon Chantal Anna Fabrice Jasmijn Loes Yassien Iris Arlet Angelique Peter Milou Lobke Jort Juul Semra Nina Pascal Didier Ghizlan Claire Sanne Nilab Noud Remco Nathalie Wil Thomas Robert Melanie Derrik Fleur Chaima Danielle Marwa Aimée Danique Nino Kenny Danthe Michelle Juliën Kevin Kris Diana Maike Nick Ceham Daphne Iris Jaimy Imke Karima Janou Danique Tarah Bas Cihan Fréderike Rowan Laura Yvonne Iman Rachelle Lotte Vera Danny Zoë Gwen Stijn Aimy Manuel Luuk Hannah Mauro Amine
Accountancy
Loek Dewi Elles Thijs Jurgen Daphne Robby Erwin Chris Britt Evy Jeroen Ivo Rick Charlotte Loes Chayen Rik Tarique Tim Kevin Bas Lotte
Business Studies
Samira Max Sjoerd Lynn Dion Iris Kelly Sjo Bram Saskia Saskia Anne Rik Anouk Nathaniël Mick Michel Zoë Michelle Harold Aimée Stefan Kim Yvonne Kingsley Marialle Eefje Inge Rimm Eva Romy Jesse Lindsay Sander Carmen Esmée Alessandro Boy Wafae Maureen Dean Luc Joyce Mitch Amber Guy Christian Kim Dylan Yara Nina Petrus Carlijn Rob Tharshika Naomi Annelot Carmen Milan Natascha Mike Jelle Paul Stef Evy Veerle Roxanne Noud Jenny Mirlette Colin Nadine Rianne Ties Bryan Talisa Karima Danny Cheryl Leonie Rick Guido Fleur Vera Robin Melvin Viola Joris Rob Verena Tim Anika Guenaut Vicky Sharen Maria Nicole Jan Chris Max Elle Olivia Melissa Niels Lieke Mees Stefan Britt Beau
Commerciële Economie
Bachelor: Rachid Jeroen Hilde Valerie Sonny Arjen Brando Lorenzo Jenny Sarah Thijs Roxanne Steven Esther Kay Ruben Bjorn Leandre Roel Patricia Demi Jos Bram Ivo Ruben Mex Remco Sander Stan Ella Romy Mick Bryan Abou Lucas Rick Jarra Mel Céline Pim Sven Denise Monique Hanane Angela Raymond Camiel Sabri Irena Maarten Timothy Edwin Kim Lotte Mariska Brian Joris Maarten Sander Maxime Norby Kenneth Dominiek Sophie Sanne Kevin Phillipe Lynn Brian Ches Marcel Remco Roel Michael Stevie Maud Naomi Kira Mitchel Joris Kenneth Luc Max Simon Pim Commercieel Management Ad: Ruben Mitchell Hugo Serena Yura Esmee Sharon Yur
Vaktherapie
Brenda Fleur Janna Katoo Janine Sieglinde Jip Luna Britt Valery Emma Saar Debora Guusje Rose Romy Anja Anne Maartje Imke Paula Neeltje
Mens en Techniek | Biometrie
Anita Nadine Emily Saskia Danja Jelle Louise Sil Saskia Dani Laura Lars Laura Dré Véronique Renée Laura Veerle Roy Aixa Anouk Parsa Michiel Ivana Eileen Joey Kenny Damon Rik Neville Elze Ard Sophie Bas
Logopedie
Janina Vinny Lynn Milena Maike Johanna Christine Anna Asma Claudia Luisa Maud Jaimy Marit Inke Marie Pauline Carmen Clarissa Misjèlle Loes Imane Marie Maartje Lianne Anni Daniela Liesbeth Ann-Sophie
Interdisciplinary Arts
Julan Tessa Holly Anneliek
Verpleegkunde
Voltijd: Noëlle Grayson Froukje Lara Chantal Serena Maartje Julie Anouk Milou Olivia Kimberly Lotte Linda Susan Lotte Natasja Noëlle Denise Milou Deveney Karima Juul Nathalie Stella Jill Salina Mandy Mariaelena Sakina Rachelle Kelsey Mitch Eugénie Michelle Simone Janou Daniëlle Joanne Silke Melissa Margot Nadine Lisa Bo Lise Vincent Lynn Meggie Linda Anouk Annemieke Lisa Dominick Sylvana Julia Priscilla Rowie Angelica Meike Dominique Vera Evelien Anniek Maud Fenna Chris Sandra Benu Beau Imke Nikki Lotte Michelle Tessa Demi Kim Caroline Kim Edmée Mauri Lotte Fenna Iris Annique Maud Celine Yvet Sanne Steffie Fabienne Sabine Jill Jennifer Lars Maya Nikki Rowan Yvon Manya Malize Marcia Arlinda Emma Anniek Aniek Zoë Sanne Saskia Nadja Keely Merle Femke Mayke Juul Vincent Remy Laura Danique Melissa Chantal Michelle Maud T-stroom: Thom Fabienne Huub Denise Maud Fleur Brigitte Melissa AD z&t: Laura Rens Barni Bram Deeltijd: Wendy Diana Nicole Yara Simone Ivanka Maud Petra Daisy Carolien Saskia Monique
Verloskunde
Celeste Loubna Dagmar Janne Mascha Eefje Simone Andrea Milou Meike Claudine Sabine Ellen Kayleigh Charlotte Lisan Merel Aukelien Shannon Judith Svenja Marion Liz Bernice Romy Lotte Milou Demi Sabine Ida Ellen Marjanne Ellis Iris Anke Elles Denise
ICT
Bachelor: Raven Jeffrey Nick Timo Fer Kevin Remco Nursize Gino Jeroen Josh Roel Remco Maikel Damien Nils Rico Christian Kevin Guy Ian Tim Glenn Ralph Camille Toon Jorrit Diewe Roy David Ricardo Joeri Ruben Joey Kelly Romy Rick Jon Kevin Bart Jeroen Wouter Job Cedric Tom Jordi Allen Emiel Robin Ashwin Brandon Sven Leonardo Jordy Milan Fenando Darryl Dani Tom Sander Kevin Gerrie Julie Roy Jeroen Scarlett Rick Wesley Cody Egon Paul Shamsedin Dion Tom Marco Joep Eveline Yuri Bob Frank Ramon Juul Javier Rik Peter Jean-Pierre Cas Luc Bob Stan Kay Menno Sebastiaan Tom Chris Dirk Christopher Scott Dennis Rai Aalt Toine Martijn Patrick Guillermo Ivo Folkert We Shi AD: Pieter Mitchell Carina Jean-Luc Ryan Rob Roel Kevin Nathan Mike Roy Frans Justin Natasja Britt Niels Jordi Nik Youri Jeannot Stan Falco Rik Marco Olav
Communication and Multimedia Design
Randy Ebony Rick Elise Daisy Lucas Tjerk Bas Guy Bob Michelle Kenny Rik Esther Nyssa Tim Armand Robin Lester Samuël Raimond Evelien Noud Julia Dirkje Amy Wouter Julian Luuk Jordy Jonas Karlijn Jeroen Daan Ivo Levi Lizzy Christian Gerardus Ryan
Vormgeving | Visuele Communicatie
Nuri Robyn Rosalie Lenneke Anne Caro Gina Veerle Sjoerd Paula Camille Elisa Rianne Monique Janou Robin Novita Malu Michelle Shannon Lotte Dominique Larissa Leslie Celine Kasper
Social Work
Voltijd: Alet Chantal Tessa Maud Steffie Jalila Robin Kim Patrick Fanny Kylie Robin Sanne Melissa Robin Femke Ruth Skip Joyce Myranie Jermaine Lynn Lara Per Roel Fenna Laura Jelle Nasila Mandy Deborah Veerle Nieki Sanne Irina Nicky Sharon Yara Oscar Daphne Kelvin Kyra Lindsey Angie Amber Myrthe Anne Lieke Lara Linsy Deeltijd: Denise Michelle Coen Germine Tiffany Sabrina Joyce Bianca Melissa Youri Daan Simon Maud
Leraar Basisonderwijs
Naomi Luuk Trisha Loek Amal Iris Jasmijn Madelon Ward Susanne Sanne Eva Sandy Daniëlle Jade Lynn Beau Bjorn Melissa Danique Laura Nynke Milou Solange Sera Inge Danielle Joanne Espen Anne Carmen Gina Lieke Rilana
Master Fine Art and Design | Scientific Illustration
Esrin Ingeborg Alessandro Kristine Jurre Jan Elena Julie Afonso Alex Matty Julie Daniela Kuukua Berk
Toneelacademie
Regisseurs: Izak Maxime Sheeyla Luca Anoek Naomi Performers: Caro Anthony Maarten Sonja Wieke Luka Timo Mees Eliane Acteurs: Scott Violet Thomas Kendrick Renee Tim Nathalie Lindsay Ellie Vormgevers: Lucie Esther Lobke Aimée Docent Theater: Tamara Anne Vera Neander Jelle Annelotte Charissa Docent & Regisseurs: Amélie Ruth Aïcha Nathalie Pieter Simon Merel Lisa Sebastien Angelo Aram Master Theater: Greet

Fysiotherapie
Bart Louis Ward Liam Roel Cassey Isabelle Anne Charlie Nadine Tom Marieke Nina Ruben Luc Linda Inge Do Inge Kyra Roy Sanne Rachelle Carina Monique Dahni Omer Guido Kira Lea Stan Oussama Pim Anouk Rik Jacqueline Foek Mirthe
Autonome Beeldende Kunst
Froukje Annemarie Joep Milan Vera Kim Loïs Laura Nowah Floor Pleun Darcy Fenna
Vormgeving | Architectuur en Interieur
Thomas Adinda Femke Daphne Koen Jordy Milou Pauline Gulsah
* De studenten van de Hotelschool ronden hun opleiding af in augustus. Daarna vullen we deze pagina aan met hun namen.