Gastronomy is defined as the science of flavour and tasting. Gastronomy is not merely about culinary enjoyment or 'the practice or art of choosing, cooking and eating good food', as the Oxford dictionary states. A gastronome is also much more than a foodie. He or she can – and in relevant situations should – be a modern and broadly trained food professional that knows a lot about flavour, taste and tasting.
Gastronomy has grown into a comprehensive theory evolved from practice. Rather different than many people think, flavour can indeed be assessed in an objective way. The parameters, mouth feel and flavour richness; enable an original description of flavour and this creates a wealth of possibilities.
Understanding the essence of gastronomy is not only applicable in luxury restaurants, or wine and food pairing. Knowing more about flavour and tasting relates, in fact, to important issues in society such as; food and health, food and the elderly, obesity and other food related problems, sustainability, farming and food production, environmental issues, etc. Gastronomy also sheds light on the marketing and packaging of food products. In Denmark the Culinary Success Factors have been applied to hospital food and the concept appears to be spreading to other hospitals as well, much to the satisfaction of the patients.
Hotel school students are expected to be able to ascertain their guests' enjoyment of what they are being served, because, bottom line, is that the guests taste and must pay for the hotel's food and service. Clearly, it is vital for a successful operation that paying guests like what they have been served and consume. However important, without specific knowledge, liking is an erratic concept. It is not only dependent on the actual products and their flavour but their culinary experiences. People travel more and more around the world and experience many foods and tastes from other cultures, as well as, eating habits. This leads to many guests being more critical about the hotel and dining services rendered to them, wherever they are.
This leads to high expectations on the delivery of excellent hotel and dining services from the modern professionals in hospitality. They must be well trained to be successful in their trade. They should know about; the influences of varieties and agricultural methods on taste, something of the physical and chemical side of products, and they should be aware of the influences of preparation techniques on taste. This knowledge needs to extend into drinks and beverage services. This includes the mutual influences of products consumed and paired with foods. Paramount is that they fully understand, in all respects (cultural, psychological, sociological), the person or guest who is tasting and receiving their services. The professional gastronome is a well-trained professional who can lead organizations, or parts of it, where foods and drinks are served. The gastronome is neither the chef, nor the sommelier, but he or she understands their language and can communicate with them. Nor is a gastronome a food scientist, yet he of she knows enough of the processes involved to organise that something tasty gets on a plate or in a glass. He or she is an all-round professional.
Read more

Read less

…
Inaugural speech
On 25 November 2018, Peter Klosse presented his inaugural speech 'Tasty Science, Exploring the Gastronomic Dimensions of Liking'.
Read the inaugural speech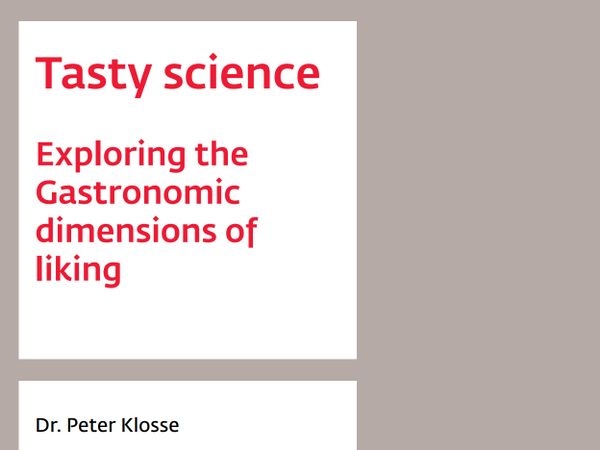 About the chair

Peter Klosse (1956) was born into a world of gastronomy. His parents were founders of the restaurant 'De Echoput', located near Apeldoorn. The restaurant quickly gained national reputation and awarded its first Michelin star in 1967. Klosse studied Business Administration and graduated with a Masters degree (MBA) from the Rotterdam School of Management in Delft.

He honed his culinary skills under the mentorship of the famous chefs Robert Kranenborg in Brussels and Troisgros in Roanne. He then followed his father's footsteps and took over De Echoput in 1986. Armed with his business and culinary acumen, he brought the restaurant to a new level of gastronomy, as well as developed a new luxury five star hotel, Hotel Gastronomique De Echoput, in 2007.

In concert with his professional life, Peter developed an academic interest in wine and food. His research led to new insights into taste and flavour. In 1991, he founded the 'Academy for Gastronomy'. Courses were developed to train professional chefs and sommeliers in wine and food pairing. In 2001 the ultimate step was development of scientific validation of the theory of Gastronomy. Peter was granted a PhD for his thesis, 'The concept of flavour styles to classify flavours' (Maastricht University, 2004). This new approach of Gastronomy has become widely accepted in the Netherlands and many food professionals benefitted from this new way of thinking.

In March of 2011, Peter Klosse was granted a Professorship in Gastronomy at Stenden University in Leeuwarden and also at the Hotel Management School Maastricht in October 2012. Currently he is working on his 'magnum opus': the essence of Gastronomy, understanding the flavour of foods and beverages.

Publications

Klosse, P. Wildgerechten, de vier seizoenen van de Echoput, 1995
Klosse, P. Smaak, het handboek voor de wijn-spijscombinatie Tirion, 1998, ISBN13: 9789051216622
Klosse, P. Smaakstijlen, de nieuwste visie op het combineren van wijnen en gerechten Tirion Uitgevers 2000 ISBN13: 9789043901208
Klosse, P. Alles naar wens? Lastige gesprekken in de Horeca, 2001
Klosse, P. De Echoput, 80 Wild- en Paddestoelengerechten, 2002
Klosse, P. Het Proefboek, de essentie van smaak Tirion Uitgevers, 2003 ISBN13: 9789043905053
Klosse, P. The concept of Flavor Styles to classify flavors Proefschrift, 2004
Klosse, P. Spelen met smaak, 2005
Klosse, P. Aan de slag met wijn, 2005, studieboek Wijn
Klosse, P. De wortels van de Echoput Tirion 2006, ISBN13: 9789043909525
Klosse, P. Chef en Sommelier Tirion 2008, ISBN13: 9789043912099
Klosse, P. De Chef en de Wijn Lannoo 2010, ISBN13: 9789020995411

Currently Peter Klosse is working on his 'magnum opus': the essence of Gastronomy, understanding the flavour of foods and beverages.
Research centre Gastronomy
Bethlehemweg 2
6222 BM Maastricht