Many innovations are dependent on materials. The wide variety of ways in which materials can be applied requires them to have a broad palette of characteristics. Plastics with suitable characteristics for specific applications can be produced with the correct design, synthesis, and processing of molecules. With the depletion of raw fossil fuels and the effects of emissions on the climate, there is increased pressure to produce materials in a more responsible and conscious way.
Objective
The objective of the Research Centre is to facilitate sustainable innovation in polymer materials and linking innovation and education.
These polymeric materials can be used for energy, construction, care, and health care applications. Through this research, the Research Centre supports the life science and materials focus point of Zuyd University of Applied Sciences and is a facilitator for the two other focus points: innovative care and technology and transition to a sustainable built environment.
Research assignments are conducted based on the three lines of research of the Research Centre:
Sustainable Synthesis and Production
Material Engineering
Biobased Materials
Based on these research lines, the Research Centre focuses on the three technologies identified by the Top Sector Chemistry as key technologies for Nederland Kennisland in the field of sustainability:
Micro Reactor Technology

Micro Reactor Technology: safe, green and sustainable

The Sustainable Synthesis and Production research line works on the conversion of chemical compounds into other compounds. The main focus is on Microreactor Technology (MRT), which is highly promising in terms of the efficient and safe production of chemical compounds.

Together with an international consortium a webportal has been developed for a project supported by the Stichting Innovatie Alliantie and an EU-Erasmus FEXI grant, where MRT knowledge, experience, and education can be exchanged. The accumulated knowledge particularly concerns feasibility studies for a large number of businesses: can conversion take place in a microreactor and what are the advantages and disadvantages? In the future, research will be streamlined to focus on the actual production of chemical compounds. In addition to chemistry, reprocessing and reactor setup will also play a role. A number of research projects and applications are currently running.

Zuyd, together with Maastricht University, and the Province of Limburg have launched a large healthcare technology project as part of the Kennis-As strategic programme called Limburg Meet (LiMe). In the Point of Care section, devices will be developed based on the Heat Transfer Method. The required polymers and knowledge of chemistry will be provided by the Research Centre for Material Sciences.

Nano Technology

Materials Engineering research is broadly focused on adapting, processing, and testing polymeric materials. Special consideration is given to introducing specific properties into polymeric materials with nanoparticles.

Together with Kria Materials, TNO, Nanohouse, and DWI at RWTC Aachen University, a SIA RAAK-PRO project was recently completed in which nanoparticles that can be used as UV-blockers were developed and synthesized. This research also resulted in a coating that extends the durability of solar cells. The project developed knowledge, demonstrators, and educational material for Zuyd and the Science College at Maastricht University, as well as masterclasses for the professional field.

This research line is developed in partnership with the special Research Centre for Solar Energy in the Built Environment headed by Zeger Vroon from TNO, which is part of the Research Centre for Smart Urban Redesign. To promote partnership with RWTH Aachen University and the Brightlands Material Center (TNO), we are currently looking to appoint a special Research Centre for Nanostructured Materials.

3D Print Materials

The newest Biobased Materials research line was launched with a focus on 3D printing processing techniques with special attention for Fusion Deposition Modelling. This technique gradually constructs objects predominantly using biobased plastic.

With the financial support of Limburg Economic Development and the Zuyd University of Applied Sciences Board of Governors an infrastructure was developed and in partnership with Maastricht University research was started supported by SIA (RAAK-PRO) for the development of materials for 3D printing. In addition to this public-private project, several other bilateral projects were launched in partnership with companies that research the possibilities of printing with Bionate which is a biobased polyamide produced by DSM. We are currently focused on medical applications and a new PhD thesis at the Faculty of International Business & Communication at Zuyd researches the effect of 3D printing on the supply chain for this specific application.

Together with the study programme Sustainable Built Environment, research into the use of 3D printing for sustainable construction is currently underway, and a new PhD thesis will investigate the use of nanoparticles to improve or modify the properties of printed objects. In collaboration with Maastricht University biobased materials (including Prof De Wildeman and Dr Bernaerts from Maastricht University) consideration is also given to the synthesis of biobased materials. The Research Centre for Urban Design, launched in April 2016, has set up a circular construction research line which focuses on the circular use of plastics and biobased materials. The Research Centre for Material Sciences will participate in this research line.

The circular economy is also becoming a topic of interest in the private sector. For example, Suez has requested the development of good-quality coating using leftover paints. This project has been picked up by an interdisciplinary research team made up of students and lecturers as part of the minor in Sustainability in Business, Science, and Technology, developed by the Faculty of Bèta Sciences and Technology and the Faculty of International Business and Communication.
Partnership

CHILL is a partnership between Arcus College, Leeuwenborgh Opleidingen, Zuyd University of Applied Sciences, Maastricht University, DSM, and SABIC. The participation of these companies makes CHILL the ultimate place for a learning and innovation lab: a dynamic place where science, development, facilities, and production meet. CHILL has a number of well-equipped laboratories on the Brightlands Chemelot Campus The Research Centre for Material Sciences is part of the core team of CHILL.

Projects

FUNFORLAB


Coordinator: Haute Ecole Libre Mosane - CRIG
Term: 1-3-2021 t/m 31-8-2023
Keytechnology: Molecular Diagnostics and Analysis
Co-funding: Interreg Euregio Meuse Rhine en de Provincie Limburg Nederland
Objective: The FUNFORLAB project focuses on an ICTE serious game. Several factors will ensure a wide implementation of the game in the training of Medical Laboratory Technologists (MLTs) in most of the EMR's MLT training centers and beyond
Read more about the project


LUMEN

Coordinator: TNO
Term: 1 May 2019 - 30 April 2022
Keytechnology: solar conversions
Co-funding: Interreg Vlaanderen-Nederland
Objective: sunlight fueled chemistry
Partners: TNO, Hasselt University, Zuyd University of Applied Sciences, Interuniversitair Microelectronics center Leuven (IMEC), Innosyn and Ecosynth
More info on the project website
Watch the project video

EnEf Energy Efficiency

Coordinator: TNO-BMC
Term: 2016-2019
Keytechnology: Nano-technology
Co-funding: Interreg Vlaanderen-Nederland
Objective: The objective of Pro-Enef is to reduce CO2 emissions by improving existing products and processes and obtaining a higher level of energy efficiency.

Hyperegio Early Tech

Coördinator: Agit GmbH
Term: 1 June 2016 -31 December 2019
Keytechnology: Technology Knowledge Transfer
Co-funding: Interreg Euregio Meuse-Rhine and Province of Limburg
Objective: access to advanced technology and human resources by providing SMEs with the substantial support needed in the first stages of cross-border technology and knowledge transfer. Technology transfer activities were targeted to 1:1-matchings and a lower Technology
More info on the Hyperegio Early Tech website or the Company Locator database


Flow4Nano

Coordinator: Zuyd University-Research Center Material Sciences
Keytechnology: Nano-technology and (MicroReactor) Flow Technology
Co-funding: SIA Raak MKB
Term: 2017-2019
Objective: Can we produce nanoparticles with high specificity in (micro)flow, and use these particles to produce coatings and polymers with tailor-made properties?
Partners: Zuyd University, HAN University, TNO/Brightlands Material Center, Kriya Materials, Chemtrix, Nanohouse
Watch the Flow4Nano-video.

Molecular Design made of high-quality materials for 3D printing

Coordinator: Zuyd University-Research Center Material Sciences
Term: 2015-2019
Keytechnology: Biobased 3D Printmaterials
Co-funding: SIA Raak Pro
Objective: Can polymers be developed for printing functional parts with sufficient mechanical characteristics within an acceptable timeframe (printing speed)?
Partners: Zuyd Hogeschool, Maastricht University, Senbis, Ultimaker, Xilloc, CHILL
Read the article 'Molecular structure and design of thermoplastic polymers for 3D printing' published in 3D Fab+Print September/October 2016.

Biobased Materials Plus

Coordinator: Maastricht University
Term: 2016-2019
Keytechnology: Biobased Materials
Co-funding: OPZuid, Europees Innovatieprogramma Zuyd-Nederland
Objective: Developing an innovative learning environment in the field of biobased materials for talented students and professionals on the Brightlands Chemelot Campus in Sittard-Geleen. Within the project Biobased Materials Plus, the involved parties will develop teaching modules and research projects for students. These will be brought under in the innovative Research Based Learning learning environment of the master course.
Partners: Maastricht University, Zuyd University, Avans, RWTH Aachen

About the lector

Dr Gino P.F. van Strijdonck has been the chair of the Research Centre for Material Sciences since 1 January 2014. He presented his inaugural lecture on 6 March 2015. Gino studied Science at Radboud University Nijmegen. His PhD thesis was titled: 'Design, Synthesis, and Characterization of Model Systems for Subsite-differentiated Iron-Sulfur Proteins'.

Following his post-doctoral appointments in bio-inorganic chemistry at Johns Hopkins University in Baltimore, USA, and in photophysics at the University of Leuven in Belgium, he was appointed as a Homogeneous Catalysis researcher at the University of Amsterdam.

At Zuyd University of Applied Sciences, Gino was involved in the development of Zuydlab, the predecessor of Chemelot Innovation and Learning Labs (CHILL).
Inaugural lecture
Gino van Strijdonck presented his inaugural lecture "Chemistry and Materials: Is is all about performance... and size does matter" on 6 March 2015.
Read the inaugural lecture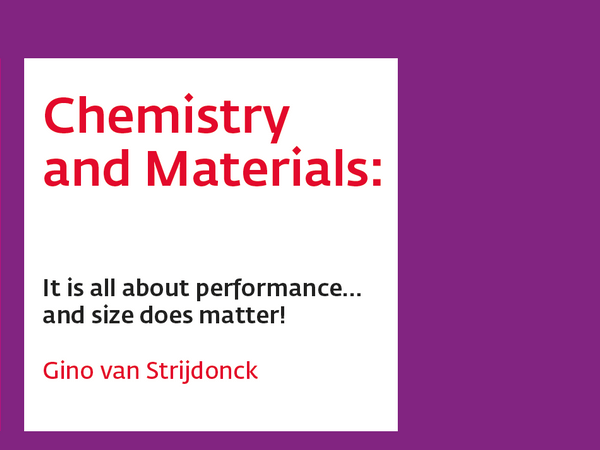 Research Centre for Material Sciences
Nieuw Eyckholt 300
NL-6419 DJ Heerlen