Your life as an student means much more than just studying. It's good to know that in The Netherlands most of the student life happens off-campus.
Living in Maastricht
As an international student it is most likely that you will live in the city of Maastricht, because all the English-taught programmes are located here. Maastricht is one of the oldest and most beautiful cities of the Netherlands. With 120,000 inhabitants, the city is quite small. However, it has a cosmopolitan feel, due to its proximity to Belgium and Germany. Students make up about 20% of the population, warranting a lively student culture. Maastricht is popular for its rich cultural life, a wide variety of shops and boutiques, in addition to many terraces, bars and restaurants. It is regarded as one of the safest cities in the Netherlands. All of which make it an ideal place to live, work and study in.
Are you new to Maastricht? This video shows you how to get settled! More information on living in Maastricht and its community is available on mymaastricht.nl as well.
Living in our region
Maastricht is part of the attractive province of Limburg, the most southern province of the Netherlands. Bustling and dynamic towns such as Aachen, Liège, Hasselt and Tongeren are close by, humming with cultural activity and great places for shopping or entertainment. If you prefer outdoor activities and nature, it is only a short drive to the hills of the Ardennes and the Eifel.
Accommodation
You can live in student accommodation or in a private rental. Many students live in privately rented student houses, studios, or shared apartments. When renting a student-room, you share facilities like kitchen, bathroom, toilet and sometimes a living room. When renting a studio or apartment you don't have to share those facilities. Also, when renting a student-room you usually can't choose your own housemates.
Work
Do you want to work alongside your studies? Then you first have to think about what kind of job you would like to do and how much free time you have to work.
Do you have to speak Dutch?
If you do not speak Dutch, certain jobs will be impossible for you. Even if you speak some Dutch, the job may require the fluency of a native speaker. Learning some basics can help impress employers and integrate more fully into the community. In your first year of study you are eligible to take part in a Dutch Course offered by the University of Maastricht.
Job opportunities
However, even without Dutch there are opportunities for international students. A good starting point is the Maastricht University Vacancy Board, which advertises a lot of student jobs in a variety of different fields of work. Another place to look is a temping agency (uitzendbureau). The agency will act as your employer and match you to companies that need temporary workers. Finally, bars and restaurants often need an extra pair of hands to help with waiting, bartending, cooking or cleaning.
Check the job vacancies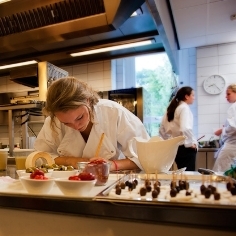 Sports
If you like to sport, you have several opportunities. You can become a member of UM Sports, that offers more than 50 different sports. If you want to plan your own time, the gym is the place to be and if you want to play in a team the sport associations are welcoming new members. There are of course also many sports associations, health clubs, yoga and pilates studios in Maastricht that you can join or where you can take classes.
Student associations
Joining a student association during your study is fun as well as educational and will help you make you feel at home. There are a number of general student organizations. Some study programmes have their own dedicated associations. Below you find the ones with an international touch:
Studium Generale
At all the Dutch universities, you will find a Studium Generale programme, which organizes lectures, discussions, courses and events in the fields of science, art and culture. Most of the events organized by Studium Generale are offered in English.
Check out the programme