Master Interior Architecture
At the Master Interior Architecture you will learn to develop a concept for a space based on your own ideas and artistic vision and to realize that concept. Important part is how to present your conclusions as an essential component of your architectural design. At each assignment you will be asked to draw connections between your own work and that of others and between your work and the audience.
Location

Maastricht

Duration

2 years

Degree

Master of Arts

Freshmen

33

Language

English

Student rating

7,6
Open Day
24 November

From 10.00-15.00h you can visit us at Herdenkingsplein 12 in Maastricht to find out more about this study programme. You do not need to register.
About the education
What makes a certain place so characteristic? Is it the light, falling in a specific angle through the glass windows? The material and colors of the chairs, tables, curtains, walls, floor? The specific sounds of the room? The touch, the smell of things? The people …? Phenomenological aspects determine the atmosphere of an interior.
The core
Interior at our Master Interior Architecture is no niche, nuance or aspect of architecture, but a fundamental attitude towards the surrounding world. The core of this Master is the understanding of a place in all its manifestations, before you start to transform it because of changing needs and requirements.
Study load
Normally you will study and work for about 20 hours a week at the academy. In addition you will have to study at home for about 20 hours a week.
Degree
When you successfully complete the programme you will get the degree of Master of Arts. The degree is recognized by the Union of Dutch Interior Architects (bni) and you can register after a two year practise period at the Foundation Architect Register (Stichting Bureau Architectenregister).
Lecturers
The Master works with leading professionals: architects, interior architects, representatives from other fields such as art historians, for maximum connection with current developments, the contribution of their professional knowledge, and professional experience.
Tuition fees
As a degree-seeking student you will have to pay annual tuition fees. Students from the EU pay the statutory tuition fees, and non-EU students pay the institutional tuition fees. Normally speaking, these fees are waived for exchange students from partner universities.
Location
The Academy of Architecture has it's residence in an beautiful restored former mansion in the city centre of Maastricht. The building is connected to the Academy of Fine Arts and they share their facilities.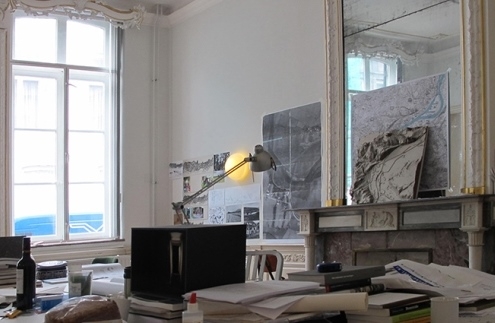 study-structure
Study structure
In the two years you study in Maastricht you will get the chance to deepen your design skills, personal interpretation of the professional situation and artistic talent. You will obtain subject matter knowledge, insights and skills based on your own applied research. Also you will make an active contribution in collaborative projects.
Year 1

Your own atelier
In the first year you will work in your own atelier, where you fulfill hypothetical assignments and where you evaluate your design process step-by-step with your lecturers. In these assignments you will explore materiality, light, time, scale and composition.

Assigments
We start an assignment with excursions to different places, where you test these with your senses and explore it with our time's state of mind, from within. You research the place's anatomy, induce empathy and construct understanding. You formulate an intention of how to rebalance the choreography meaningfully and you exemplify the intended meaning as a built structure of explicit materiality. In these assignments the theoretical research and analysis play a key role.

Year 2

Final master assessment
In the second year you will focus on your thesis and final work piece. Your graduation project is the final master assessment. With this assessment you will proof that you are able to practice the profession. You will position yourself as an interior architect and present you to the outside world so that you can build the foundation for a future career. It also offers the possibility of a critical contribution to the debate on topical issues, and is valuable for the further development of the field.

Free to choose
The subject of your final project is free to choose but still fairly close in the broad sense of the interior. It is a hypothesis in a built-up area context. The selection and motivation of your graduation project is part of the graduation plan that is submitted. You will have to conclude the place and the primary idea of the intention.

Thesis and anatomical model
Your graduation project consists of two connected layers: the thesis and the anatomical model. The thesis should form the foundation of your project, based of language and theoretical research in historical, philosophical, cultural and socio-political sense. The anatomical model is the concrete implementation of your intention and includes all spatial elements.
Entrance requirements
You are admissible if you are a graduate with a Bachelor's degree in Architectural Design, or another Bachelor's programme, if you have the desired intake competencies.
Not admissable?
When you can't meet these entrance requirements you have the option to request an entrance examination. To do so, send a portfolio and covering letter to the programme secretariat. Your registration needs to be final before 1 May. All students who are admissible will be invited in July for the intake assessment.
Admission procedure
As soon as we received your application form we will invite you for the admission procedure, which consists of the following steps:
A preselection based on your letter of motivation, diploma and digital portfolio.
A motivation interview and evaluation of your portfolio.
A practical assignment.
When you pass the preselection (1) we will invite you for the intake assessment that will take place in Maastricht for a full day*. During this day you will be tested on your suitability for the programme. You can show and discuss examples of the work in your portfolio with the admission committee (2). The final part is a practical assignment set by the admission committee (3).
* or via Skype if you live abroad and don't have the opportunity to come to Maastricht.
Maastricht Academy of Architecture
Brusselsestraat 75
6211 PC Maastricht