Sustainable Energy in the Built Environment
The special Research Centre for Sustainable Energy in the Built Environment falls under the Research Centre for Smart Urban Redesign and specializes in researching the possibilities for the integration of solar panels in the built environment. The Research Centre also researches the use of innovative materials for solar energy applications. The aim of the Research Centre is to develop knowledge in this field together with companies in the south-eastern parts of the Netherlands. This knowledge could lead to innovation in education at Zuyd University of Applied Sciences.
The products that are developed from these two research lines are investigated, demonstrated, and monitored at the living lab 'de Wijk van Morgen' (the district of the future) at the Avantis cross-border industrial park. The living lab provides the opportunity to demonstrate new developments in innovative products for BIPV (building-integrated photovoltaics) to a wide public and to companies. Here, companies can test their new products in collaboration with Zuyd University of Applied Sciences.
Partnership with TNO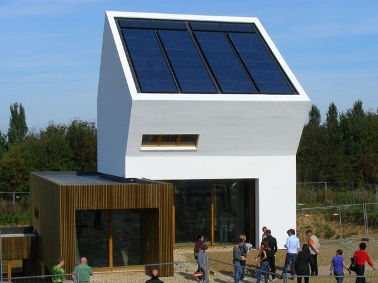 This special Research Centre is a partnership with TNO, the largest research institute in the Netherlands and an experienced player in the field of chemistry, construction, and energy-related research. The partnership between TNO and Zuyd has been running for several years and has seen a great deal of interaction between staff at the two institutes including internships and research assignments. The vision of TNO and focus points of Zuyd complement one another and it is important for TNO to be affiliated to a university of applied sciences that is a leader in chemistry and the sustainable built environment.
Research and projects

The special Research Centre for Solar Energy in the Built Environment has two dedicated research lines that converge with the focus points of the region and Zuyd:

Solar panels in the built environment
Nanomaterials for energy applications

Several projects are running within these research lines.

The Research Centre contributes to education and professionalization by:

setting up and supervising internships and final projects;
providing assistance to set up study units;
participating in the Chemistry and Electrical Engineering programme committees;

The special lector participates in the programme discussions of CHILL and S-Built to make a contribution to the implementation of the curricula of the involved study programmes that link up with developments in the professional field and knowledge domain. The special lector will supervise lecturers in their professional development to aid their development from lecturers to senior lecturer-researchers. The lector will also teach at the Chemistry, Chemical Engineering, and Electrical Engineering study programmes.

Publications

Marieke Burghoorn,1 Dorrit Roosen-Melsen,1 Joris de Riet,2 Sami Sabik,2 Zeger Vroon,1,3 Irina Yakimets 2 and Pascal Buskens,1,4, Durable Single Layer Broadband Anti-Reflective Coatings for Plastic Substrates Produced by Full Wafer and Roll-to-Roll Step-and-Flash Nano-Imprint Lithography, Materials 2013, 6, published 2013
Pascal Buskens, Mariëlle Wouters, Corné Rentrop, Zeger Vroon, A brief review of environmentally benign antifouling and foul-release coatings for marine applications. Journal of Coatings Technology and Research, 2013, Volume 10, Issue 1, pp 29-36.
Mirjam Theelen, Krista Polman, Nicolas Barreau, Henk Steijvers; Jurgen Van Berkum, Zeger Vroon, Miro Zeman, Influence of deposition pressure and selenisation on damp heat degradation of the Cu(In,Ga)Se2 back contact molybdenum. Solar Energy Materials and Solar Cells.
M. Theelen, T. Boumans, F. Stegeman, F. Colberts, A. Illiri, N. Barreau, J. van Berkum, Z. Vroon and M. Zeman, Degradation behavior of ZnO: Al for CIGS Solar cells. Solar energy Materials and solar cells. Published 2013
M. Ritzen, B. van de Meijden, R. Rovers, Z. Vroon and C. Geurts, A comparison of office facade renovation solutions in The Netherlands based on different environmental assessment tools and the calculation of an office facade solution with minimal environmental impact, Published 2013

Cooperation

The research center cooperates with the following partners:

Avans University of Applied Sciences
Energy Research Centre of the Netherlands (ECN)
Holst Centre (independent R&D center)
MEC Leuven (independent R&D center for micro-elektronics and nanotechnology)
Fontys University of Applied Sciences
RWTH Aachen University
TNO Industrie en Techniek
University of Technology Eindhoven
Maastricht University
Several small and medium entreprises

About the lector

Zeger Vroon was appointed as special lector for the Research Centre for Sustainable Energy in the Built Environment at Zuyd University of Applied Sciences as of 1 March 2010. Zeger graduated at Utrecht University in 1991 in storage phosphors. His interest in chemistry and science started with his love for fireworks and chemicals. At high school he was also interested in geochemistry and sustainable energy. He was awarded his PhD in 1995 at the University of Twente for his research in zeolite membranes.

Following his PhD he started working as a researcher at TNO Eindhoven specializing in sol-gel processing. Here, Zeger worked on the production of sol-gel inorganic coatings and powders for the petrochemical, automotive, solar, and high-end equipment market. More recently he has been working at TNO on the production of optic inorganic coatings for solar cells and light management in solar cells.

Since 1996, Zeger has been supervising Chemistry and Chemical Engineering students from Zuyd for their internships and final projects at TNO. When the relationship between TNO and Zuyd University of Applied Sciences was strengthened in 2008, Zeger started working at the Research Centre one day week as of June 2009. Zeger is affiliated to Zuyd University of Applied Sciences for 0.4 FTE while continuing to work at TNO for 0.6 FTE. The special Research Centre is partly funded by TNO.
Research Centre for Sustainable Energy in the Built Environment
Nieuw Eyckholt 300
NL-6419 DJ Heerlen