You don't really need a car to get around in Holland.
Use a bike!
To save money on short distances, most people in the Netherlands ride bicycle, regardless of their profession or status. As a newcomer you may need some time to learn how to cycle safely in busy traffic. Second-hand bicycles are widely available. If you buy one and sell it when you leave, you will have saved a lot of money on transportation. Don't forget to buy a decent lock, as bikes are frequently "borrowed" by others.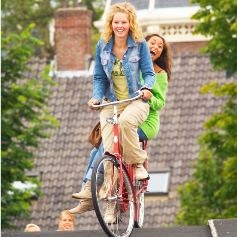 Public transport
The Netherlands has a very efficient public transport system. Trains generally run on time, with frequent connections to a wide number of destinations. If you want to use public transport you will need an ov-card. For public transport travel information, including detailed travel directions, visit 9292.
You have a car?
If you are from a EU country, you may use your national driving license in the Netherlands. If you are here for longer than three months, however, your own license is only valid if you are officially registered with the authorities. After twelve months you will need a Dutch license. Check in advance whether or not you will need an international driving license. You might need it to drive through the countries that lie between your country and the Netherlands. Make sure that your car insurance provides full coverage for all costs that you might incur in the Netherlands (which can be very high).
Parking at the campuses
Cars can be parked at most of our campuses. The parking fee amounts to a maximum of € 1.15 per day. Public parking space may be hard to find, and car parks are often quite expensive.

More information on transport in Maastricht (and the Netherlands) is available on mymaastricht.nl.