International Relationship Management
Founded in 2008, the research centre for International Relationship Management (IRM) conducts research into the professional competencies and communication strategies that allow organizations to build productive and long-lasting relationships with their international stakeholders. By focusing on the impact of culture and communication, we explicitly address the 'soft side' of international business and service delivery.
Furthermore, our research is characterized by:
A strong focus on interactions: We believe that high-quality, meaningful interactions between organizations, employees and customers are crucial for building successful relationships, particularly in an international setting. Therefore, we aim to identify competencies and strategies that make a positive difference during these so-called 'moments of truth'.

A long-term orientation: We are not interested in identifying quick wins or short-term solutions. Therefore, only competencies and strategies that yield beneficial results in the long run are considered in our research.

A multidisciplinary approach: Our team consists of experienced researchers from a variety of different disciplines, including - but not restricted to - business communication, political science, translation studies and organizational psychology. Therefore, we are able to take a multifaceted perspective on the topic of relationship management.
As a result of the increasing digitization of services, interactions between organizations and their stakeholders will change considerably over the next few years. Therefore, IRM is also involved in the Business Intelligence and Smart Services (BISS) Institute, where we investigate how high-quality interactions can be created with limited human intervention on behalf of the service provider. For more information about this or one of our other projects, please visit the Projects page.
Vision and mission

Vision
For organizations operating in an international context, the ability to develop productive and long-lasting relationships with customers, suppliers and other stakeholders is a crucial precondition for success. Therefore, many organizations are investing in IT systems for Customer Relationship Management (CRM) and Supplier Relationship Management (SRM).

Although such systems can be valuable, it is important not to lose sight of the human dimension. Collecting data is not sufficient for building successful relationships. Organizations that wish to create true intimacy with their stakeholders, should also pay attention to meaningful interactions, especially when these are relatively scarce due to the physical distance between the two parties. Consequently, intercultural, communicative and emotional competences are indispensable resources for professionals working in an international context.

By conducting research into the development of these competences and their impact on the quality of relationships, the research centre for International Relationship Management (IRM) aims to become an internationally recognized research group that develops relevant and up-to-date knowledge for students, professionals and companies with international ambitions.

Mission
IRM's mission is to generate knowledge about relationship management in an international context, with particular attention being paid to the role of cultural diversity and communication in the interactions between organizations, employees and customers.
As part of the Faculty of International Business and Communication at Zuyd, IRM aims to:

stimulate students to develop an inquisitive and relationship-oriented attitude
help lecturers refine their research and relationship management skills
strengthen internationally active companies by doing applied research and communicating relevant research findings to a wide audience

Education

IRM contributes to the education at Zuyd in different ways. Besides offering courses on research methodology to staff and master students, we also allow bachelor students from different departments to participate in our research projects. Furthermore, some of our projects are explicitly aimed at delivering products that enhance student learning, such as the personal reports provided to participants of the Global Mind Monitor.

Below, you can find some recent examples of IRM's involvement in education:

In 2015-2016, we taught four day-long workshops on research methodology to 20 students enrolled in the master program Personal Leadership in Innovation and Change at Zuyd, as well as a semester course on linear regression and ANOVA to 2 lecturers from the Faculty of Commercial and Financial Management. A full overview of the courses we offer can be found in the following leaflet (in Dutch): pdf.
Every year, we offer students of European Studies the opportunity to pitch their research ideas to a group of experienced researchers working at IRM. In 2015-2016, four of these students subsequently wrote a bachelor thesis related to one of our research topics (either emotional contagion or storytelling).
In 2015-2016, we were involved in the re-development of the minor of International Relationship Management offered by the Hotel Management School Maastricht. The contents of the minor, which was renamed Creating Customer Delight, were strongly influenced by the ideas presented in Mark Pluymaekers' inaugural lecture. Furthermore, four researchers working at IRM delivered guest lectures during the minor.

Educators who are interested in collaborating with us to innovate their education are more than welcome to contact us: mark.pluymaekers@zuyd.nl

Publications

A list of all popular IRM-publications and presentations is provided below. Other person or project related scholarly publications and presentations can be found with the respective IRM-member or project.

News and media (in Dutch)

Begrip voor andere culturen, De Koppeling, February 2017 (pdf)
De mensen achter kennisontwikkeling in het communicatieonderwijs, Communicatie.magazine 7/8, July/August 2015 (pdf)
'Global mind' helpt jongere, De Limburger, 3-5-2016 (pdf)
Dienstverlening aan gasten uit andere culturen, Meetings 28 (3), 2015 (pdf)
Sex sells maar woorden ook, De Limburger, 25-11-2014 (pdf)
Vooral jonge consumenten willen samenwerken om producten te verbeteren, Limburg onderneemt, March 2014 (link)
Bereidheid tot samenwerken afhankelijk van product, Limburg onderneemt, February 2014 (link)
Limburgse consument is duurzaam bezig, March 2013 (link)
Limburgse ondernemers ervaren duurzaamheid als welbegrepen eigenbelang, February 2013 (link)
Limburgse ondernemers ervaren duurzaamheid nog te zeer als kostenpost, Limburg onderneemt, January 2013 (link)
Sociale media in het Limburgse bedrijfsleven 1, 2012 (pdf)
Sociale media in het Limburgse bedrijfsleven 2, 2012 (pdf)
Sociale media in het Limburgse bedrijfsleven 3, 2012 (pdf)

Annual reports (in Dutch)
Projects
Most of our current research is linked to one of our main research programs: Global Minds and Message Design.
Global Minds
Global Minds focuses on intercultural competence, which is defined as "the ability to communicate and behave effectively and appropriately in intercultural situations based on one's intercultural knowledge, skills and attitudes" (Deardorff 2006, p. 184). Within the program, quantitative and qualitative tools are developed to monitor the development of intercultural competence in students and professionals.
Global Mind Monitor

[Started in 2015]

The Global Mind Monitor (GMM) is a tool that helps students and teachers to monitor the development of so-called international learning outcomes and the influence of activities that can be defined as 'internationalisation at home' (for instance, training or an international classroom) and 'internationalisation abroad' (a work placement, or exchange). The instrument allows repeated application (once per year/ pre/post work placement) and, as such, helps analysing the progress students make towards developing their internationalisation learning outcomes.

The GMM can further be used to investigate the effect of educational interventions in relation to internationalisation learning outcomes, which in its turn - by benchmarking and comparison (i.e., by sharing evidence-based best practice) - will help to fine-tune the course content. The GMM is based on a literature study in the context of PhD research and has been refined by a team of 5 different Dutch Universities of Applied Sciences (all with a hotel school). Finally, the Market Research Agency RMI has helped to technically develop and house the instrument.

The GMM research project aims to:

monitor how students develop their international competences, leading to international learning outcomes;
provide insight into the (relative) influence of 'internationalization at home' and 'internationalization abroad' on these international learning outcomes;
show how international competences contribute to the employability of students in an international context;
benchmark with other education institutes in the Netherlands and abroad who are less (or more) internationally oriented;
investigate the international competencies of graduates in relation to an (international) career.

In education, the GMM aims to:

provide students with a user friendly toolkit to reflect on the development of their 'Global Mind', and enable them to integrate this in their portfolio and/or resume;
give the management of educational institutes insight into and advice about optimizing the curriculum in order to maximize the international learning outcomes and the international employability potential of their graduates.

For further information, please contact ankie.hoefnagels@zuyd.nl

Publication

Hoefnagels, A., Hoppenbrouwers, G., Odekerken, A. (2015). The Global Mind Check: to Enhance the Global Wiring of the Translation/ Interpreting Student. Presented at Duo Colloquium on "Translation and Meaning", Maastricht, the Netherlands, 2014.

Presentations

March 2015: Zorgtotaal, Utrecht (the Netherlands): "Wereldburgers in de Zorg"
May 2015: The International Maastricht-Łódź Duo Colloquium on "Translation and Meaning", Maastricht (the Netherlands): "The Global Mind Check: to Enhance the Global Wiring of the Translation/ Interpreting Student"
March, 2016: The Loop, Maastricht (the Netherlands): "Developing Intercultural Competence with the Global Mind Monitor"
September 2016: Inspirational session on Internationalisation at Zuyd University of Applied Sciences, Maastricht (the Netherlands): "Development of students' global mind: the Global Mind Monitor"

Read more

Read less

…

Global Mind blogs

[Started in 2016]

Internationalisation and Intercultural Competence (IC) are frequently considered to be key drivers of personal effectiveness in a globalized economy. At Hotel Management School Maastricht these concepts constitute the focal point of the online learning platform "Curious People", conceived for young professionals in the hospitality industry. By writing reflective blogs on intercultural experiences, students bring their own experiences to the classroom, build a learning community and add meaning to the theoretical frameworks they have been taught. It empowers them to take charge of their learning and to share knowledge and insights with others, leading to a higher level of intercultural competence (IC) and creative thinking, amongst other typical 21st century skills.

In this project we try to identify how students develop their intercultural competencies by means of reflective blogging. One approach is to investigate the linguistic markers of IC in these blogs, using discourse analysis and text mining as analytical frameworks. How can we discursively identify signs of stereotyping or over-generalizing language use? Can we pin down the linguistic elements referring to personal reflection, empathy, openness and flexibility? How do the students manifest social identity? Do they use paralinguistic features such as emoticons, capitals, etc. to compensate for the lack of face-to-face mimicry?

The outcomes of this study will be useful:

to equip the students with tips and tricks to improve their online writing skills, as well as those typical 21st century skills such as IC
to inform the lecturers how they can most effectively instruct students, provide feedback and customize their course content prior to the internship.

For further information, please contact ankie.hoefnagels@zuyd.nl

Publication

Hoefnagels, A., Schoenmakers, S. (In press). Developing the intercultural competence of 21st century learners with blogging during a work placement abroad. In D. Dekker, J.A. Oskam & K. Wiegerink (Eds.), Innovation in Hospitality Education: Anticipating the Educational Needs of a Changing Profession. Berlin. Germany: Springer Verlag

Presentations

May, 2017: GABC, Antwerp (Belgium): "Can you pin down intercultural competence (IC) on the basis of students' language use in groupblogs?".
May 2017: SIETAR Europe, Dublin (Ireland); Barbara Piskur and Ankie Hoefnagels: "Two sides to every story: a qualitative study on web-blogging about intercultural experiences".
May 2017: Educational Innovation in Economics and Business (EDiNEB), Utrecht (The Netherlands): "Curiosity crossing borders: A case of students blogging on international experiences"
March, 2017: The Loop, Maastricht (The Netherlands): "Pride and prejudice: How students write about intercultural experiences".
March 2017: International Skills Inventory and Training Programme for Global Citizens (ISITPGC), Learning, Teaching and Training Event, Lecce (Italy): "Wiring the Global Mind, How can Educators Support?".
November 2016: EAPRIL, Porto (Portugal): "Developing the intercultural competence of 21st century learners by reflective blogging".
April 2016: HBO Jaarcongres, Rotterdam (the Netherlands): "Curious People Crossing Borders: Learning by Blogging".

Read more

Read less

…
Message Design
In Message Design, the main goal is to discover which communication strategies are most effective when the relationship between an organization and its international stakeholders is at stake. The effectiveness of messages is investigated in a wide variety of professional domains and communicational contexts, ranging from face-to-face interactions between hotel receptionists and guests to online service interactions figuring human or non-human service agents.
Inaugural speech
Mark Pluymaekers presented his inaugural speech 'Initmacy across borders. New competencies and strategies for international relationship management' on 9 October 2015.
Read the inaugural speech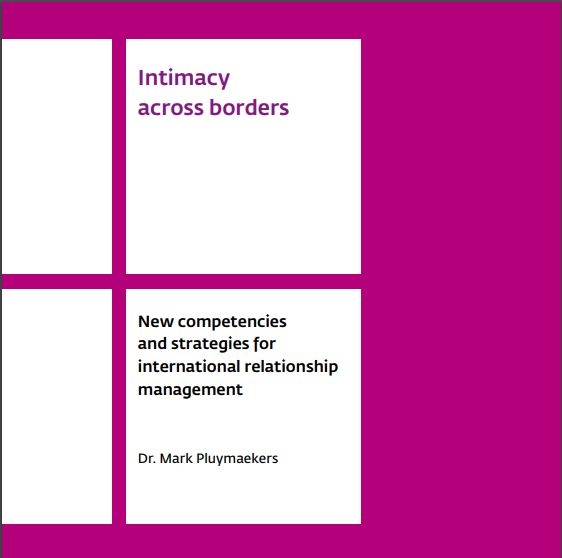 About the lector and the team
Click on the names to read more about the lector en the researchers, with the exception of Barbara Piskur.
Lectoraat International Relationship Management
Brusselseweg 150
6217 HB Maastricht