Accommodation for exchange students
We offer limited short-stay accommodation for incoming exchange students, on a first come, first served basis, in collaboration with our student housing agency.
Avant Garde Residence
You'll find the Avant Garde Residence at the Vijverdalseweg 8 in Maastricht. The single rooms are furnished, equipped with a living/sleeping area and have a private bathroom with wash basin, shower and toilet. Each floor has a shared kitchen, laundry room and dining room. In addition, you can use the cosy communal leisure area on the ground floor, the garden with barbecue, the parking lot and the secure bicycle shed. All floors can be reached by staircase and elevator.
Rent
The rent for a single room is €375 per month. All services, including wireless internet, are included in the monthly rent.
Application
The administrators of our student housing agency will contact you via the contact information you provided in the application form to process your housing request and confirm your accommodation.
Request a room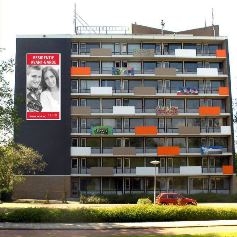 Maastricht Housing
If you wish to arrange your own accommodation you are welcome to use the online platform Maastricht housing. This platform combines all the student housing offers in Maastricht and is accessible from anywhere in the world.
More info
Please contact the International Office for more information.