Zuyd study programme International Business EPAS accredited
EFMD, the leading European strategic audit and accreditation agency, has just awarded the EPAS accreditation to the bachelor's degree programme in International Business at Zuyd University of Applied Sciences.
EPAS quality mark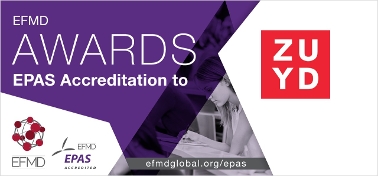 EPAS is a world-renowned and prestigious seal of quality for study programmes in the field of business and management. The accreditation procedure, which was started at International Business in 2016, critically analysed all aspects of the study programme: from the curriculum, research, teaching methods, staff and learning environment to the level of internationalisation, quality assurance, practical relevance and sustainability.
Innovative teaching acknowledged
The International Business programme recently implemented an ambitious pedagogy based on real-life business cases and inspired by research, with a view to training entrepreneurial business professionals with a global mind. The EPAS accreditation board appreciated this innovative way of teaching, which allows students to study with a strong practical orientation and with insistence on personal development and responsibility. The board also complimented the programme on its excellent cooperation with the business world.
New opportunities
By being awarded this EPAS seal of quality, the study programme expects to increase its own national and international attractiveness as well as that of its students and alumni as (future) leaders in a global economy.
Being part of this network of high-quality business schools opens up new opportunities to International Business for the exchange of knowledge, benchmarking and internationalisation. The International Business study programme at Zuyd already has a substantial number of foreign students, and aims to further increase this number in the coming years. An international classroom enables students to gain first-hand experience in intercultural diversity and cooperation throughout the entire study programme. Furthermore, an expanded network of partner universities abroad is an attractive prospect to the students of International Business.
The Netherlands
International Business at Zuyd is only the second study programme at a University of Applied Sciences in the Netherlands to have been awarded the EPAS quality mark.
Manon Niesten, Programme Director: "We are obviously very proud that the quality of our education is acknowledged, but the achievement of this accreditation is a stepping stone rather than a final station for us. EPAS will challenge us to keep improving and to set our ambitions and standards even higher".